Ah, lazy Sundays.  There's nothing better than a bit of chilling out on a Sunday…although today I'm meeting my family for lunch to celebrate my Mum's birthday, so that's arguably better!  We don't get together that often as we don't live that near each other but always make the effort on birthdays.  We're off to somewhere new today, near where my lovely brother and his equally lovely girlfriend live, so I'm looking forward to something different.
But for those of you who have the opportunity to laze around and waste some time online, here are a few things that may pique your interest: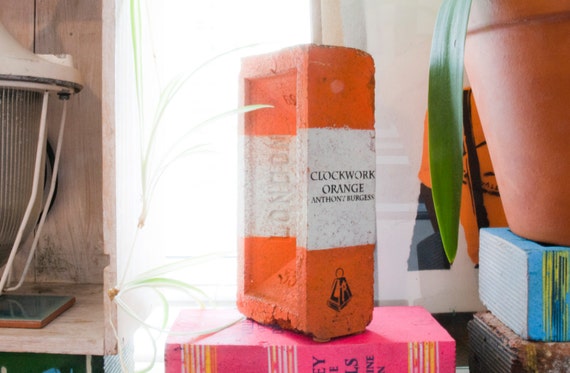 First, I found this shop on Etsy, Light Reading London, and now I want to buy lots of brick books and use them as bookends (although I have too many real books already).  They do custom orders too.  Such an original idea.
Next, the work of Damien Borowik, an artist that Annie met recently, he creates his artworks on machines he builds himself.  The process of creating the image results in variations in stroke size and intensity and as a result no two pictures are the same.  The simplicity of the designs really appeals to me.
For a bit of craft inspiration, the New Craft House ladies showcase a wide variety of crafts of their blog.  They have worked with lots of big name brands, run workshops and sell kits (the above picture is from their site, if you ever wanted to make your own knickers, now's your chance!)  Like Annie and I, they were friends before starting their business together and we are always interested in the different dynamic that brings.  Also like Annie and I, they have introduced each other to new crafts.
If you don't mind making yourself a little envious, take a look at A Life on Shuffle, a blog by writer Barry Lillie, an English ex-pat living in the Abruzzo region of Italy.  It sounds like the most idyllic lifestyle in a beautiful place with fabulous (and cheap) food and wine.  Barry volunteered to do some test stitching for us after we advertised in a magazine he works for and, having never done any cross stitch before, he decided to blog about how he got on.  By the way, if you're interested in doing some test stitching for us, get in touch.
Finally, Balmology, who make some of our favourite skincare products.  Balmology are a local business to us and Annie and I love their products, although don't just take our word for it, Balmology products have been featured in such esteemed publications as Vogue and Harper's Bazaar.  If you think their website is beautiful, trust me, it's nothing compared with their balms!  I use their Neroli & Sweet Basil Cleansing Balm and Exotic Rose Beauty Oil every day and I reckon I look about 20 years younger than I did before.  (OK, I might be slightly over exaggerating, this may just perhaps be wishful thinking).  Anyway, I'm very excited to discover that they are now offering courses to learn how to make your own skincare products.  A little visit may well be in order…